2018 Mercedes-Benz AMG® GT VS 2019 Porsche Cayman
There's a class of luxury sports cars that caters to the demands of a loyal fan base and the models of both Mercedes-Benz and Porsche deliver. We're honing our razor sharp focus on the 2018 Mercedes-Benz AMG® GT vs 2019 Porsche Cayman, to task ourselves with the impossible chore of picking a winner between the two. Sure it's a tough job but someone's got to do it and we're up for the challenge. Enjoy this comparison of the Mercedes-Benz AMG® GT vs Porsche Cayman. We'll get started by approaching the performance of the Mercedes-Benz and the Porsche side-by-side.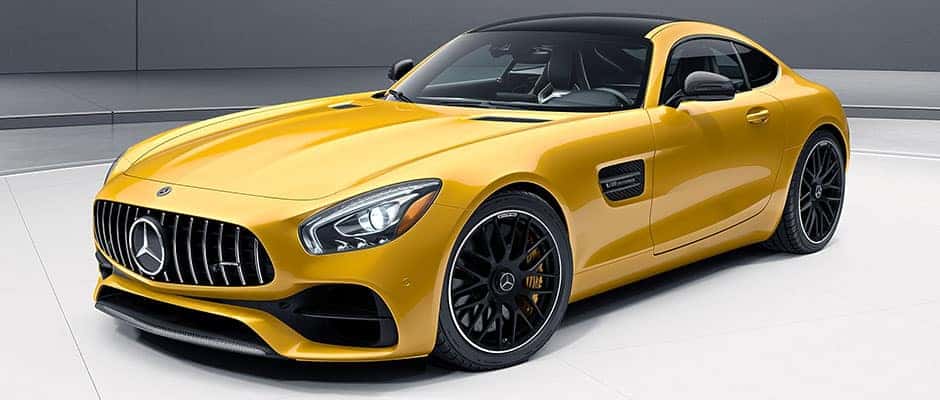 2018 Mercedes-Benz AMG® GT vs. 2019 Porsche Cayman: Performance
The
2018 Mercedes AMG® GT
delivers the thrilling performance you want from a high-end luxury coupe. It has powerful engines, a smooth-shifting transmission, and buttoned-down handling. Whether you're jetting down the highway or carving up canyon roads, the GT feels like it always has an extra gear available. It comes standard with a twin-turbocharged 4.0-liter V8 engine that puts out 469 horsepower and 465 pound-feet of torque, delivering blazing speed. The GT's engine produces a respectable growl, and it gets better with the optional performance exhaust. Each successive trim has a few more performance-related features than the one below it, including things like a limited-slip differential, a race mode drive selector, and more. The GT feels planted around turns, and its sharp steering and strong brakes give you the confidence to attack corners with aplomb.
The 2019 Porsche 718 Cayman is a thrill to drive, as it's not only incredibly responsive, but comfortable as well. Porsche offers three turbocharged four-cylinder engines for the 718 Cayman. The base engine is a 300-horsepower 2.0-liter four-cylinder. It's no slouch, but many driving enthusiasts will prefer the brisker takeoffs and throatier exhaust notes associated with the two larger optional engines. Under the hood of the Cayman S is a 350-horsepower 2.5-liter four-cylinder. Engine displacement remains the same in the Cayman GTS, but horsepower increases to 365. All three engines can be paired with a polished six-speed manual transmission or an optional seven-speed automatic that delivers quick, well-timed shifts. It is agile and responsive on curvy roads, yet comfortable enough to drive every day.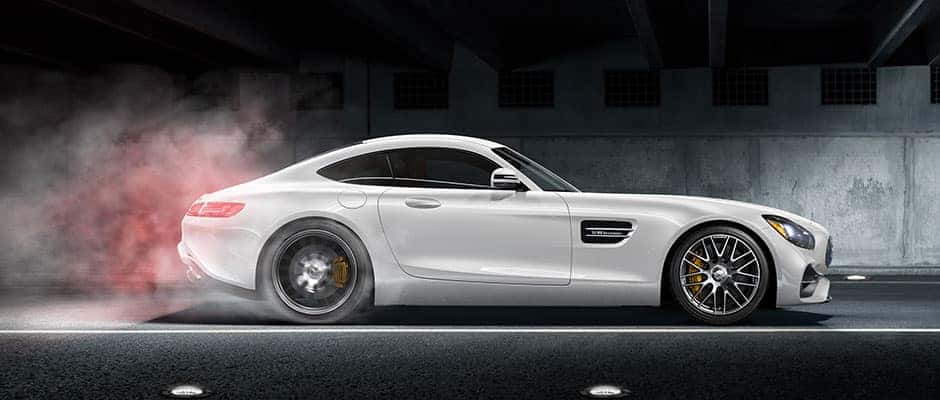 2018 Mercedes-Benz AMG® GT vs. 2019 Porsche Cayman: Feature Comparison
The
2018 Mercedes AMG® GT
has a sleek, attractive cabin that uses plenty of top-quality materials. The confines are a bit snug, as this is a two-seater, but the seats are reasonably spacious. It comes standard with leatherette upholstery, power-adjustable seats, and heated seats. Standard features in the GT include dual-zone automatic climate control, Mercedes-Benzmbrace® Connect (which lets you control certain vehicle functions from your smartphone), a four-speaker audio system, satellite radio, HD Radio, two USB ports, *Bluetooth®, the COMMAND® infotainment system with an 8.4-inch display screen, navigation, and Mercedes-Benz touchpad controller. Standard driver assistance features include a rearview camera, front and rear parking sensors, driver drowsiness monitoring, and automatic emergency braking. Though it's primarily designed to go fast, the GT still comes with plenty of tech features. The infotainment system uses Mercedes-Benz touchpad controller, which is a mouselike device. There are also plenty of buttons and knobs, which are clearly marked and easy to see.
The 2019 Cayman may be the least expensive car in Porsche's paddock, but it feels far from economy-grade inside. An array of exquisite materials and a sophisticated interior put the 719 Cayman on par with its more expensive siblings. The two-seat Cayman comes with manually adjustable sport seats and cloth, partial leather, or full leather upholstery. The cabin is small but fittingly so for a sports coupe, and the seats are comfortable, even for larger travelers. The base infotainment system includes the Porsche Communication Management interface, a 7-inch touch screen, eight speakers, two USB ports, satellite radio, HD Radio, and *Bluetooth®. A rearview camera and front and rear parking sensors are also standard. For the most part, the Cayman's technology passes muster for ease of use and includes sleek features such as gesture control (when the touch screen senses a hand nearby, it pulls up relevant menus). However, a few reviewers say the interface lags behind those of some competitors.
*Bluetooth® is a registered mark Bluetooth® SIG, Inc.
2018 Mercedes-Benz AMG® GT vs. 2019 Porsche Cayman: Overall Comparison
The 2018 Mercedes-Benz AMG® GT brings a lot to the table. It has loads of horsepower and outstanding handling, along with an upscale interior. Consequently, it enjoys a very high spot in the luxury sports car rankings. The GT features potent V8 engines and handling that you'd expect to see in a high-speed car chase scene in an action movie. Inside, the seats have a decent amount of space and the kind of high-end styling and top-notch materials that Mercedes-Benz is known for. The GT has a usable trunk and a generous list of standard features, which you can't say about many cars in this class. This Mercedes-Benz is one of the most impressive cars out there, all things considered.
The 2019 Porsche 718 Cayman has authoritative powertrains, impeccable handling, and sophisticated styling. Its midpack status in the luxury sports cars rankings is partially a reflection of its relatively short list of standard features. If you are after exhilarating handling, put the 2019 Porsche Cayman on your short list. Its midengine layout yields an optimal weight balance, though it also means you'll have less interior space than you would in a front-engine sports car. This sports coupe has no major marks against it, though shoppers should keep an eye on the final price when adding options, as these can be costly.
Still Undecided?
Come drop by our Mercedes-Benz dealership in Fairfield, CA to check out our new cars, you'll see just what makes them so appealing. Speak with our Mercedes-Benz sales associates about our latest Mercedes-Benz financing options, and take a test drive today!
Make an Inquiry
If you have any question or concerns, fill out the for below and we'll get back to you soon, or call (707) 430-0101.
We are more than happy to help!