2018 Mercedes-Benz GLA VS 2018 BMW X2
There's a class of luxury subcompact SUVs that caters to the demands of a loyal fan base and the models of both Mercedes-Benz and BMW deliver. We're honing our razor sharp focus on the 2018 Mercedes-Benz GLA vs 2018 BMW X2, to task ourselves with the impossible chore of picking a winner between the two. Sure it's a tough job but someone's got to do it and we're up for the challenge. Enjoy this comparison of the 2018 Mercedes-Benz GLA vs 2018 BMW X2. We'll get started by approaching the performance of the Mercedes-Benz and the BMW side-by-side.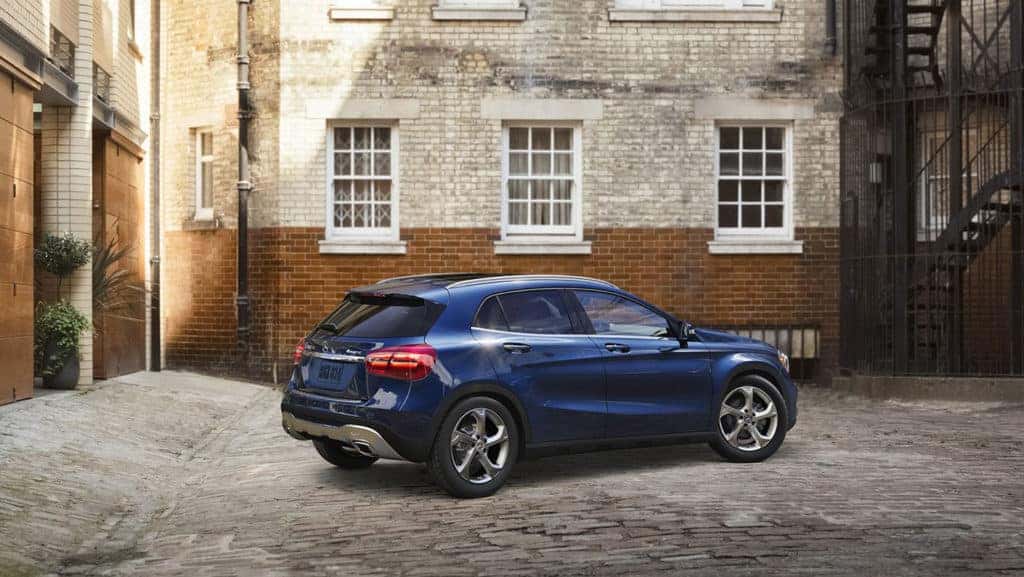 2018 Mercedes-Benz GLA vs. 2018 BMW X2: Performance
The
2018 Mercedes-Benz GLA
is agile and handles corners confidently. The GLA 250 comes standard with a turbocharged 2.0-liter four-cylinder engine that produces 208 horsepower and 258 pound-feet of torque. A seven-speed dual-clutch automatic transmission is also standard. Front-wheel drive comes standard, and all-wheel drive is optional. The standard GLA has athletic handling and pinpoint steering. The AMG® GLA 45 has a 2.0-liter, turbocharged four-cylinder engine that produces 375 horsepower and 350 pound-feet of torque. This potent GLA variant rockets from zero to 60 mph in 4.3 seconds, which makes it one of the fastest SUVs money can buy.
The 2018 BMW X2 features a turbocharged engine that rarely feels short on power and delivers good acceleration in highway situations, but don't expect it to blow you away. The X2 features a turbocharged 2.0-liter four-cylinder engine that puts out 228 horsepower. It's mated to an eight-speed automatic transmission. The engine feels responsive and provides quick acceleration when passing cars on the highway. From a stop, however, it feels a bit more sluggish. Overall, this BMW won't blow you away with its performance, but it makes a good daily driver. The steering feel could be better, however, as little road feedback is transmitted to the driver.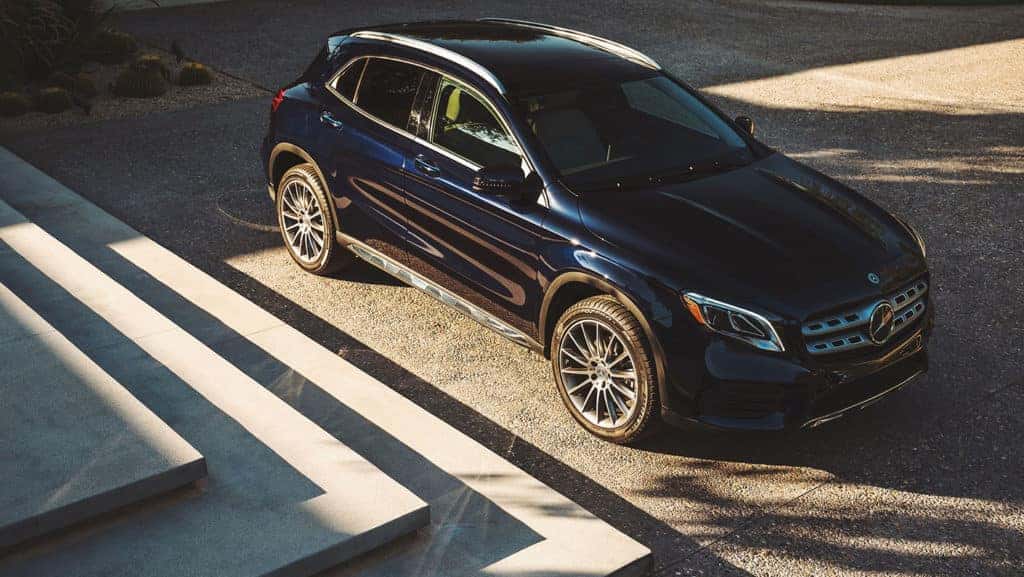 2018 Mercedes-Benz GLA vs. 2018 BMW X2: Feature Comparison
The
Mercedes-Benz GLA
seats five people. Up front, the seats are supportive and well-sculpted to keep you in place during spirited driving. The front seats are also comfortable enough for long trips, and there's plenty of space for a taller occupants. Standard 14-way power adjustments make it easy to find a relaxing position.. The GLA comes standard with dual-zone automatic climate control, push-button start, rain-sensing windshield wipers, a rearview camera, driver attention and drowsiness monitoring, forward collision warning, and automatic emergency braking. The standard COMMAND® infotainment system has an 8-inch display, HD Radio, *Bluetooth®, and two USB ports. The system features sharp graphics and quick response times. There are plenty of large physical buttons that make it easy to adjust other features. Fit and finish are good, as the GLA feels solid and well put together.
The 2018 BMW X2 is a new addition to the German automaker's lineup. The cabin is quiet and looks the part of a luxury vehicle, though there are some lower-quality materials if you look closely. The X2 seats five people and comes standard with leatherette upholstery and power-adjustable front seats. The front seats are comfortable and offer generally good visibility, though you'll have a hard time seeing out back if there are rear-seat passengers. Standard features in the X2 include automatic climate control, a seven-speaker audio system, HD Radio, a USB port, *Bluetooth®, BMW's ConnectedDrive Services, a rearview camera, and the iDrive infotainment system with a 6.5-inch screen. The X2 features BMW's iDrive infotainment system, which has a bit of a learning curve for unfamiliar users. Once you get used to it, however, the system is pretty easy to use.
*Bluetooth® is a registered mark Bluetooth® SIG, Inc.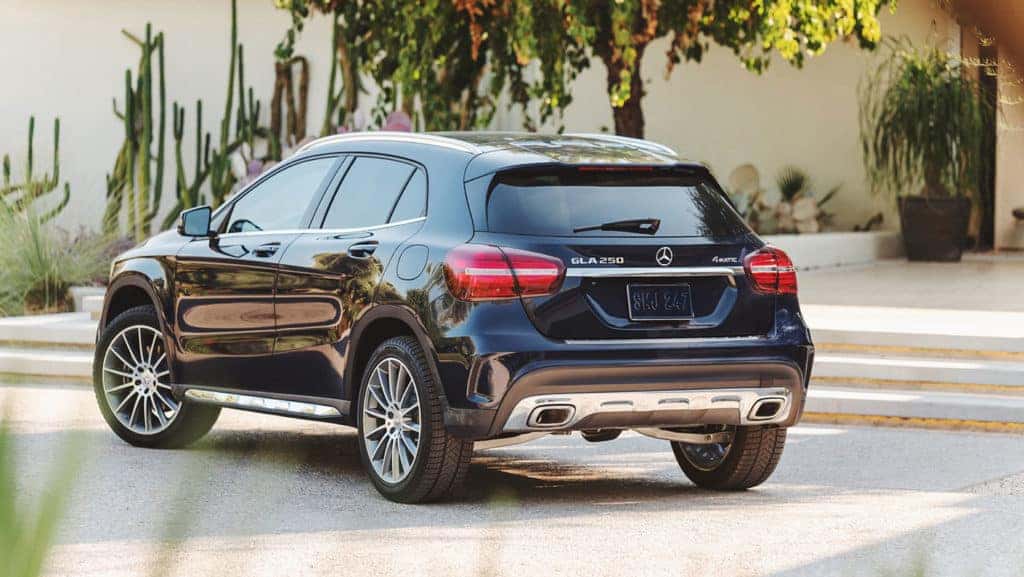 2018 Mercedes-Benz GLA vs. 2018 BMW X2: Overall Comparison
The Mercedes-Benz GLA is worth a look for a luxury subcompact SUV. It's one of the most fun to drive crossovers in the class, with eager corner-carving abilities and carlike maneuverability. The standard infotainment system works well and is easy to use. You should buy the GLA if you want a small crossover with engaging driving dynamics.
The all-new 2018 BMW X2 doesn't have many significant weaknesses, but neither does it excel against the competition. It finishes in the middle of the segment in a number of areas, including cargo space, handling ability, and tech offerings. Some class rivals offer more interior space, and some feature more luxurious interiors.
Still Undecided?
Come drop by our Mercedes-Benz dealership in Fairfield, CA to check out our new cars, you'll see just what makes them so appealing. Speak with our Mercedes-Benz sales associates about our latest Mercedes-Benz financing options, and take a test drive today!
Make an Inquiry
If you have any question or concerns, fill out the for below and we'll get back to you soon, or call (707) 430-0101.
We are more than happy to help!