2018 Mercedes-Benz GLA VS 2018 Infiniti QX30
There's a class of luxury subcompact SUVs that caters to the demands of a loyal fan base and the models of both Mercedes-Benz and Infiniti deliver. We're honing our razor sharp focus on the 2018 Mercedes-Benz GLA vs 2018 Infiniti QX30, to task ourselves with the impossible chore of picking a winner between the two. Sure it's a tough job but someone's got to do it and we're up for the challenge. Enjoy this comparison of the 2018 Mercedes-Benz GLA vs 2018 Infiniti QX30. We'll get started by approaching the performance of the Mercedes-Benz and the Infiniti side-by-side.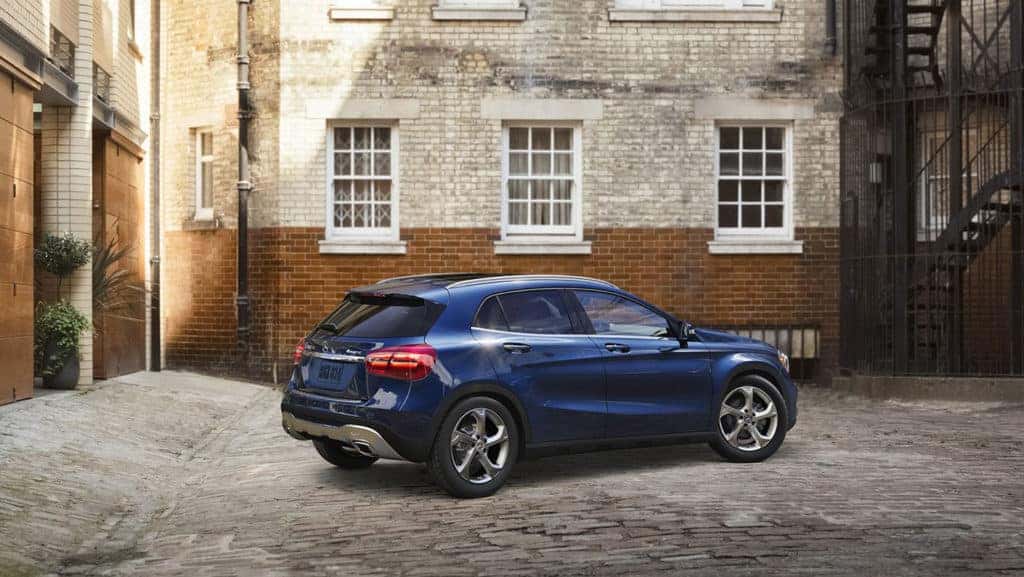 2018 Mercedes-Benz GLA vs. 2018 Infiniti QX30: Performance
The
2018 Mercedes-Benz GLA
is agile and handles corners confidently. The GLA 250 comes standard with a turbocharged 2.0-liter four-cylinder engine that produces 208 horsepower and 258 pound-feet of torque. A seven-speed dual-clutch automatic transmission is also standard. Front-wheel drive comes standard, and all-wheel drive is optional. The standard GLA has athletic handling and pinpoint steering. The AMG® GLA 45 has a 2.0-liter, turbocharged four-cylinder engine that produces 375 horsepower and 350 pound-feet of torque. This potent GLA variant rockets from zero to 60 mph in 4.3 seconds, which makes it one of the fastest SUVs money can buy.
The 2018 Infiniti QX30 offers easy maneuverability, excellent fuel economy, and a smooth ride. These qualities make it a comfortable daily driver and a smart choice for commuters. Every QX30 comes with the same powertrain: a turbocharged 2.0-liter four-cylinder engine and a seven-speed dual-clutch automatic transmission. This 208-horsepower setup provides a satisfying amount of scoot. This crossover rewards drivers with mild agility and a lively feel, though it's not meant to be pushed hard around corners. Most test drivers call the QX30's transmission smooth and responsive. A few, however, report that the shifts can be slow and coarse at times.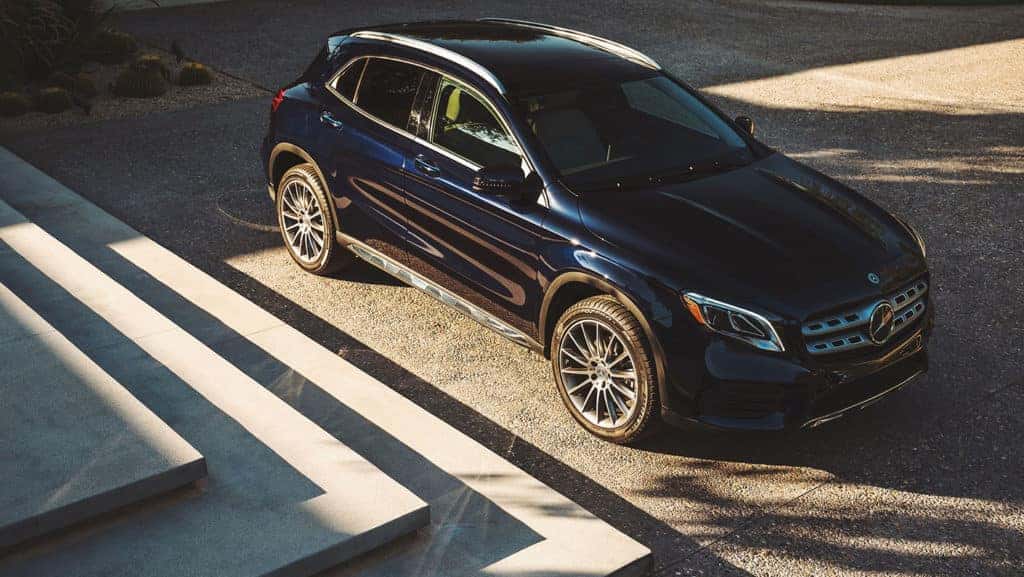 2018 Mercedes-Benz GLA vs. 2018 Infiniti QX30: Feature Comparison
The
Mercedes-Benz GLA
seats five people. Up front, the seats are supportive and well-sculpted to keep you in place during spirited driving. The front seats are also comfortable enough for long trips, and there's plenty of space for a taller occupants. Standard 14-way power adjustments make it easy to find a relaxing position.. The GLA comes standard with dual-zone automatic climate control, push-button start, rain-sensing windshield wipers, a rearview camera, driver attention and drowsiness monitoring, forward collision warning, and automatic emergency braking. The standard COMMAND® infotainment system has an 8-inch display, HD Radio, *Bluetooth®, and two USB ports. The system features sharp graphics and quick response times. There are plenty of large physical buttons that make it easy to adjust other features. Fit and finish are good, as the GLA feels solid and well put together.
Sitting inside a 2018 Infiniti QX30 may remind you of riding in a Mercedes-Benz GLA, that's because it sources many of its cabin materials from Mercedes-Benz. The seats themselves are comfortable, but some may find fault with the limited visibility and low headroom. Overall capacity comes up short compared to class rivals. Standard features include a 7-inch touch screen, two USB ports, *Bluetooth®, HD Radio, satellite radio, a six-speaker audio system, dual-zone automatic climate control, and a rearview camera. Uplevel models and available packages include extras like a 10-speaker Bose premium audio system, navigation, a panoramic moonroof, active park assist (including parallel park assist), a 360-degree camera, front and rear parking sensors, adaptive cruise control, forward collision warning, automatic emergency braking, blind spot monitoring, and lane departure warning.
*Bluetooth® is a registered mark Bluetooth® SIG, Inc.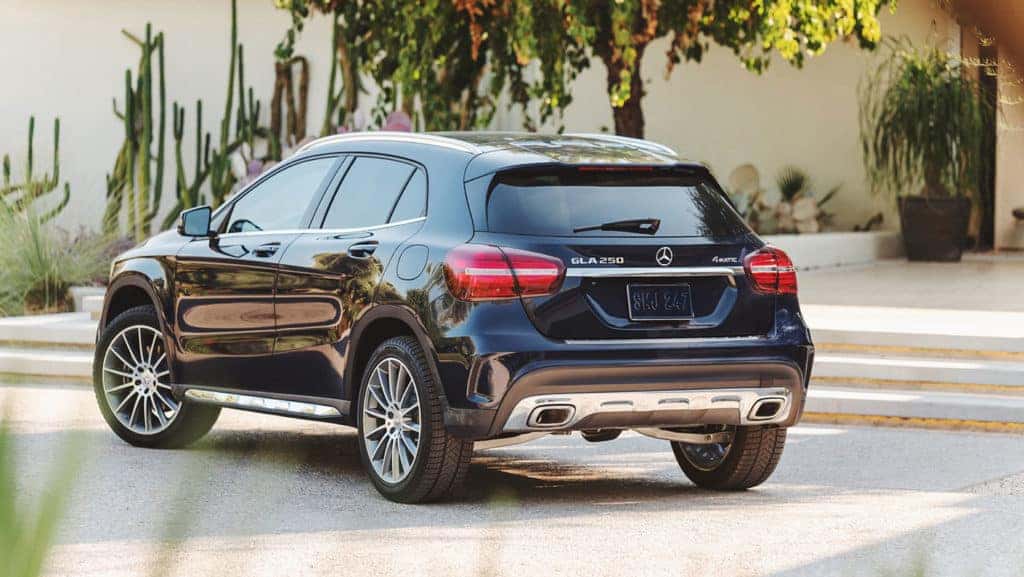 2018 Mercedes-Benz GLA vs. 2018 Infiniti QX30: Overall Comparison
The Mercedes-Benz GLA is worth a look for a luxury subcompact SUV. It's one of the most fun to drive crossovers in the class, with eager corner-carving abilities and carlike maneuverability. The standard infotainment system works well and is easy to use. You should buy the GLA if you want a small crossover with engaging driving dynamics.
The Infiniti QX30 is a good luxury subcompact SUV. Its comfortable front seats, premium cabin materials, and smooth ride defy its relatively low price tag. The QX30 suffers in some key areas, though. The back seats are a little small, and rearward visibility is limited. And though the sleek QX30 looks sporty and fun, don't expect a high level of performance.
Still Undecided?
Come drop by our Mercedes-Benz dealership in Fairfield, CA to check out our new cars, you'll see just what makes them so appealing. Speak with our Mercedes-Benz sales associates about our latest Mercedes-Benz financing options, and take a test drive today!
Make an Inquiry
If you have any question or concerns, fill out the for below and we'll get back to you soon, or call (707) 430-0101.
We are more than happy to help!