2019 Mercedes-Benz C-Class VS 2019 Infiniti Q50
There's a class of large luxury sedans that caters to the demands of a loyal fan base and the 2019 models of both Mercedes-Benz and Infiniti deliver. We're honing our razor sharp focus on the 2019 Mercedes-Benz C-Class vs 2019 Infiniti Q50, to task ourselves with the impossible chore of picking a winner between the two. Sure it's a tough job but someone's got to do it and we're up for the challenge. Enjoy this comparison of the 2019 Mercedes-Benz C-Class vs 2019 Infiniti Q50. We'll get started by approaching the performance of the Mercedes-Benz and the Infiniti side-by-side.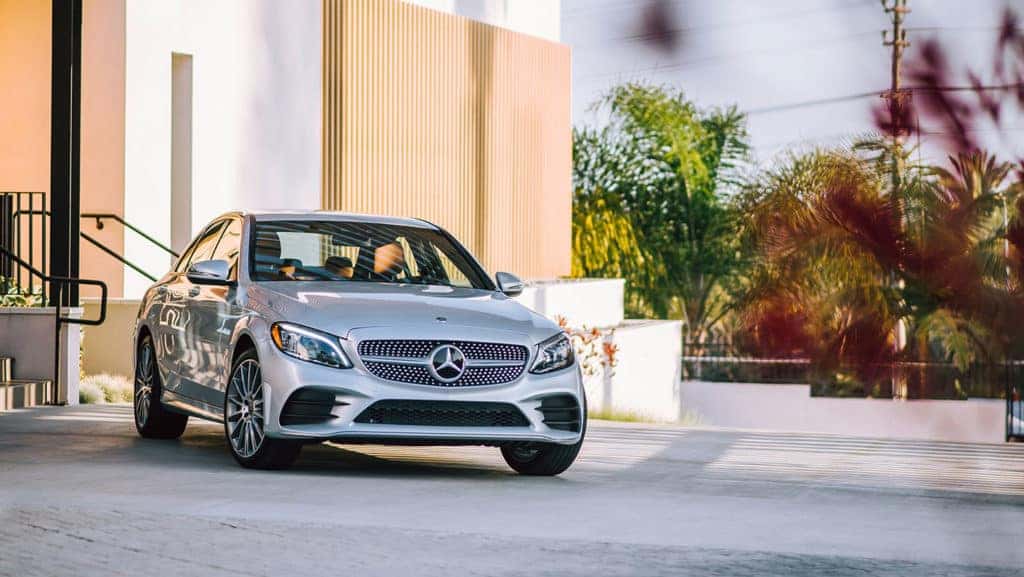 2019 Mercedes-Benz C-Class vs. 2019 Infiniti Q50: Performance
The
2019 Mercedes-Benz C-Class
has a lineup of powerful engines. New for the 2019 C 300 is a 2.0-liter turbocharged, 255-horsepower four-cylinder engine mated to a nine-speed automatic transmission. The base engine displays ample power, whether taking off quickly from a stop or cruising at high speeds. The C-Class comes standard with rear-wheel drive; all-wheel drive is optional. The C-Class prioritizes a comfortable and plush ride quality over athletic handling, though handling is still respectable.
The Infiniti Q50's engine lineup includes a turbocharged four-cylinder base engine. The Q50 has engaging handling and a compliant ride, even over rough patches in the road. However, its fuel economy is poor regardless of which engine you choose, and some rivals are more engaging to drive. A 208-horsepower, turbocharged 2.0-liter four-cylinder engine powers the base Q50. The seven-speed automatic transmission feels refined, but it lags when using the available paddle shifters.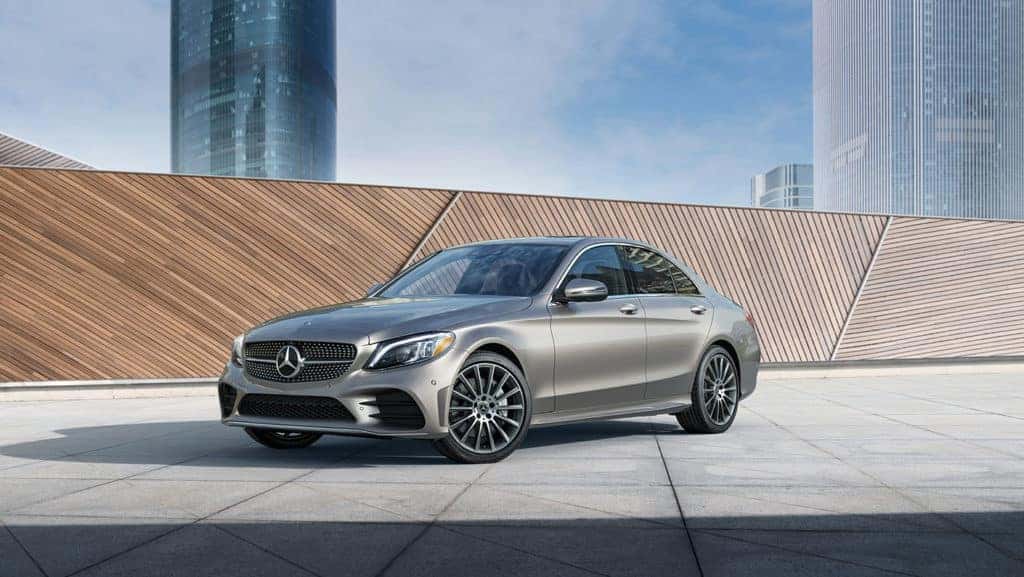 2019 Mercedes-Benz C-Class vs. 2019 Infiniti Q50: Feature Comparison
The
2019 Mercedes-Benz C-Class
has an upscale and elegant interior that's rife with premium materials. It offers plush power-adjustable front seats and leatherette upholstery that come standard, while providing all-day comfort and plenty of support for long drives or spirited back-road adventures. There is sufficient room for passengers in the sedan's second row. Standard features in the 2019 C-Class include dual-zone automatic climate control, *Bluetooth®, two USB ports, proximity key entry, push-button start, HD Radio, a 7-inch infotainment display screen, Android Auto, Apple CarPlay, a sunroof, a rearview camera, rain-sensing windshield wipers, forward collision warning, automatic emergency braking, and attention assist driver drowsiness monitoring. The C-Class' upgraded tech features give the car a modern look and feel.
The 2019 Infinity Q50's interior has high-end materials, and both rows of seats are comfortable and roomy. However, some rivals are more upscale, and it may take some time to learn how to use the Q50's dual-screen infotainment system. However, physical controls for audio and climate controls help with ease of use. Reviewers also fault the Infiniti for not offering Android Auto and Apple CarPlay. The Q50 does come standard with dual-zone automatic climate control and a touch-screen infotainment system with an 8-inch upper display, a 7-inch lower display, *Bluetooth®, two USB ports, voice recognition, HD Radio, satellite radio, and a six-speaker audio system. A rather short list, especially when the cabin storage space also is lacking compared to the competition.
*Bluetooth® is a registered mark Bluetooth® SIG, Inc.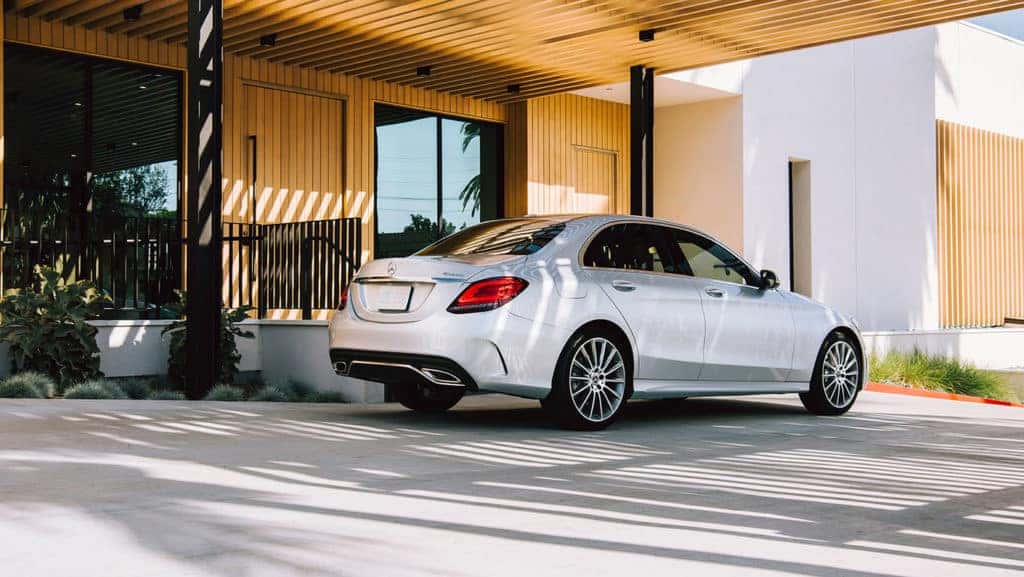 2019 Mercedes-Benz C-Class vs. 2019 Infiniti Q50: Overall Comparison
The heavily refreshed 2019 C-Class is a good car. This Mercedes-Benz has several engine options, and all deliver satisfying power. The C 300 has ample power for daily driving, whether you're taking off quickly from a stop or cruising and passing at highway speeds. The transmission delivers quick and smooth shifts. Plus, if you're looking for a luxurious ride and cabin, the C-Class nails it. Elegant materials are everywhere you look (and touch), and the list of standard and optional features is extensive. All in all, the C-Class' sleek, modern, and luxurious cabin is one of the nicest in the class.
The 2019 Q50 is a good luxury small car. It has strong engine options, a refined cabin, and plenty of optional safety equipment. It boasts agile handling and offers powerful engine options, and its interior is teeming with quality materials. That said, the Q50 isn't as athletic or luxurious as some of its rivals. It also has subpar fuel efficiency, and while most of the competition offers Android Auto and Apple CarPlay, the Q50 does not. Unfortunately, it ranks in the bottom third of the luxury small car class because the competition is simply better overall.
Still Undecided?
Come drop by our Mercedes-Benz dealership in Fairfield, CA to check out our new cars, you'll see just what makes them so appealing. Speak with our Mercedes-Benz sales associates about our latest Mercedes-Benz financing options, and take a test drive today!
Make an Inquiry
If you have any question or concerns, fill out the for below and we'll get back to you soon, or call (707) 430-0101.
We are more than happy to help!