Top 6 Places to Take Pilates Classes in Fairfield, CA
Top 6 Places to Take Pilates Classes in Fairfield, CA
Satisfy your fitness hobby by enrolling in a Pilates class at a studio near Fairfield. There are sessions catered to your experience level, where you can learn from certified instructors to empower you to reach your exercise goals. Whether you're new to Pilates or looking for a community of fellow enthusiasts, the Bay Area features multiple establishments that specialize in mind-body exercises.
Pilates Napa Valley
It's time to get active by enrolling in Pilates courses at Pilates Napa Valley. For 55 minutes, the instructors will encourage you to sweat, utilizing every muscle in your body to become stronger and feel better. You can use equipment, such as circuit boards and exercise balls, to activate your midsection and flex your arms and legs. Your dedication can also help you better maintain your balance.
Pilates Napa Valley hosts multi-level classes, which welcome students new to Pilates and those wanting to refine their skills. Available are sessions that focus on stretching to boost your flexibility and that teach breathing exercises to enhance the control of your muscles. Throw on your most comfortable workout clothes, fill up your water bottle, and head to 3138 Jefferson Street for your first course. You can use the website to see open time slots and sign up for a class, and you can contact the studio by calling 707-253-2214.
Indigo Yoga & Pilates
Indigo Yoga & Pilates in Walnut Creek offers in-person Pilates classes for clients of all experience levels. You can purchase sessions in bulk to learn the fundamentals of the exercise and how to operate the apparatuses used for toning your muscles. Once you become more experienced at Pilates, you can register for more advanced courses. Some of the sessions may take place outdoors underneath the studio's patio, allowing you to immerse in the sunshine and feel the breeze while transforming your body.
Dial 925-979-9642 to gather more information about Indigo Yoga & Pilates, including its workshops. If you'd prefer to work one-on-one with an instructor, inquire about private Pilates sessions. The schedule for upcoming classes is online, and the physical location for the studio is 1512 Palos Verdes Mall.
Move With Studio
Located in El Carrito, Move With Studio directs an assortment of Pilates courses that target beginners and intermediaries. As a new client, you can purchase packages that include multiple sessions, enabling you to get acclimated to the art form and progress to a more advanced course when you're ready. For example, you can enroll in SpringBarre, a course that energizes your body and exposes you to different Pilates principles. Another option is Stretch plus Strength, which can strengthen your posture and introduce yoga techniques.
Move With Studio also conducts private sessions in-person or online. You can find booking information for private and group courses by visiting its website. Once you've scheduled your first session, the studio will be waiting for you at 11100 San Pablo Avenue in Suite. #109. Call ahead at 510-232-4885 to learn more about what to expect.
Yoga Core Fit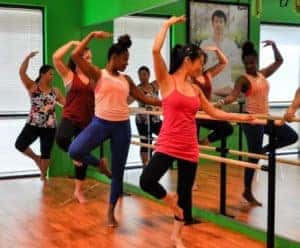 At Yoga Core Fit, you can participate in Pilates instruction from the comfort of your own home. The courses teach barre exercises that are common in ballet. In the entry-level class, you can concentrate on building muscle in your core, legs, and glutes. Then, you can progress to cardio to increase your endurance with your level of activity. The top-tiered course is Mat Pilates, which ignites your pelvic muscles and fortifies your lower back as you practice Pilates on a mat. Being consistent in attending sessions can help your body appear more lean as you burn calories away.
To get started, purchase what the studio calls a class pass, which compiles several classes in multiple units. An additional option is to pay a fixed rate to take part in unlimited Pilates, yoga, and aerial courses in one month. It's helpful to register for classes ahead of time to save your spot. Submit a message online to get in touch with Yoga Core Fit, or call 707-452-1403.
Balance Point Pilates Studio
Register for a class at Balance Point Pilates Studio in Davis to experience Pilates from multiple angles. In the barre class, you can learn how to expand the reach of your body and maintaining the tightness in your abdomen. It also introduces lights weights to challenge you to use your muscles. The mat class, compatible with all experience levels, uses equipment such as foam rollers and flexible bands to accentuate your Pilates session. It promotes flexibility and endurance. Once you've gained experience, you can advance to the equipment class, which teaches a small party how to manage Pilates tools properly.
Balance Point Pilates Studio reserves private sessions for clients who want to receive personalized instruction. It can be beneficial if you're recovering from an injury or have a specific fitness goal in mind. Access the establishment's website to view a schedule of upcoming sessions, along with the instructor who's going to teach them. For inquiries, send an email at [email protected]
Pilates by Design
Another destination for your exercise needs is Pilates by Design. There are four classes to choose from based on the impact of the workout you want to have. Primal Pilates targets beginners who wish to learn how to move their bodies safely, while the Cadiallic class involves exercising on bars, straps, and mats, for example. If your objective is to become stronger, then you might opt for the Reformer class, and the Jumpboard class can boost your heart rate with cardio. Enroll in the Chair class to step on pedals with springs and test how much resistance you can handle.
Pilates by Design requires all new clients to attend an introductory session, regardless of experience level. Call the studio at 707-290-3131 to get started, and remember to check the website for a schedule of upcoming sessions. When you're ready for a workout, you can find the studio by traveling to 331 Main Street in Vacaville.
There it is. Mercedes-Benz of Fairfield has shown you a list of studios that offer Pilates courses. Is our collection up to your standards? Send us a message to let us know. And if you're looking for a car that makes you feel as great as pilates, talk to us about financing your next ride.