Mercedes-Benz Service Specials and Maintenance Offers
Welcome to the Service Specials portal for Mercedes-Benz of Fairfield. Here, you'll find everything you need to schedule routine maintenance for your car or SUV and save money. At Mercedes-Benz of Fairfield, we treat your vehicle like our own. We only use OEM Mercedes-Benz parts and practices to service and repair your car. As a result, when you leave our service center, your Mercedes-Benz will run as good as it did the day it rolled off the assembly line.
We are currently updating our Specials. Please check back soon.
It's crucial to keep your car in top condition, but vehicle service can also be quite stressful. At Mercedes-Benz of Fairfield, it's our goal to make service as stress-free as possible – that's why we offer rotating auto service offers for Fairfield area drivers. Next time you need to bring your Mercedes-Benz in for a  regular maintenance procedure, you can rest assured that you aren't spending more than necessary. Be sure to check out our oil change specials and auto repair offers before scheduling service at our state-of-the-art service department!
Oil Changes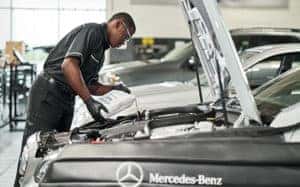 Your Mercedes-Benz needs regular oil changes. Over time, the viscosity of your engine oil wears down. Viscosity refers to the oil's ability to lubricate. Thus, as the viscosity of your engine oil drops, protection against the high heat of combustion lowers. Failing to check and change your engine oil can lead to more costly damage down the road.
The recommended interval for an oil change differs with every vehicle. Your owner's manual has your car's schedule. If you ask different mechanics, you'll hear various mileages, typically ranging from 3,000 to 6,000 miles. Most newer Mercedes-Benz vehicles have recommended intervals of 10,000 miles. Once you understand your car's schedule, you can check for oil change specials here. We almost always have great offers on oil changes.
If you enjoy changing your engine oil at home, we recommend using OEM Mercedes-Benz oil filters and the recommended oil for your car. You can order all you need from our parts department, either online or by phone at (707) 430-0105. We'll notify you once we've assembled your order and will have it ready when you arrive.
Tire Rotations
Regular tire rotations help extend the life of your tires, improve fuel economy, enhance safety, and save you money. Your driving dynamics and load typically vary between the front and rear axles. The front axle allows you to steer and brake your car, while the rear axle only brakes. Also, rear-wheel and front-wheel-drive models add acceleration responsibilities to the respective tires. All of these various conditions cause uneven wear. Therefore, rotating your tires spreads the wear more evenly, allowing them to last longer.
In most cases, our service center can rotate your car's tires while we have it up on the lift as part of your oil change. You can enjoy a hot cup of coffee or cold beverage in our lounge while you wait. We recommend you rotate your tires with every oil change, and you can take advantage of our service specials to save money on this. You can conveniently schedule service online or take advantage of our Express Service without an appointment.
Brake Inspections and Service
Your vehicle's brakes help you maintain control and bring your car to a stop, sometimes slowly and other times quickly. Unfortunately, your brake pads wear out over time from the friction created by the braking process. It's a normal, expected result. That's why you should have your brakes inspected regularly. Our service center technicians will inspect your brake pads while rotating your tires.
However, your brake system has many complex moving parts. Some parts operate hydraulically and others mechanically. To ensure vehicle safety, it's best to have your entire brake system inspected every 10,000 miles. If you notice a drop in performance between inspections or hear squealing, squeaking, or grinding noises when braking, you should have a professional mechanic inspect your brake system immediately. The problem could be worn brake pads or something more complex, such as a damaged or malfunctioning caliper or master cylinder.
Wheel Alignment Services
Mercedes-Benz engineered your vehicle's steering system for precision operations. As a result, your ability to steer depends on the proper placement of your tires within your car's steering and suspension system. Your wheels can move out of position over time, simply from the normal bumps in the road. In some cases, striking a pothole or curb can quickly jar your wheels from their proper place. A wheel alignment puts your wheels in the correct position for optimal performance.
You probably need a wheel alignment if you notice a drift to either side while driving straight. You might also have a problem with your steering or suspension system. We recommend you bring your car in for service if you experience this symptom. Our factory-certified technicians will inspect your alignment and make the necessary adjustments quickly. Our Express Service offers a no-appointment service in less than 60 minutes.
Tire Services and Replacement
Eventually, your tires wear out. Sometimes, you experience a flat tire and need to replace it. Whether you need four new tires or a single replacement, our tire department has the supplies on hand, and our service center possesses the know-how to perform all your tire service needs. If you've noticed that your tires are wearing, we recommend you check our service specials.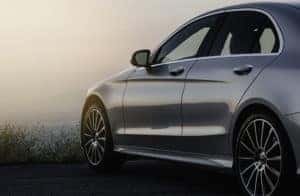 In addition, your new tires need proper balancing when first installed. Balancing your tire involves attaching small weights to the rim that reduce wobble as they rotate. Without balancing, the wobble causes premature and uneven wear, severely decreasing the tire's lifespan.
Battery Service
Your battery provides the energy to start your engine. Unfortunately, batteries fail over time or more quickly if you've left your lights on overnight. Batteries also fail due to other supporting systems malfunctioning. If you suspect a problem with your battery, our technicians can quickly inspect and replace it if necessary.
At Mercedez-Benz of Fairfield, we understand the importance of regular service. That's why we provide our service center technicians with continuous factory training to remain updated on all parts and repair practices. Completing the recommended maintenance at the proper intervals prolongs the life of your Mercedes-Benz and saves you money, avoiding more complicated repairs down the line.
Our service specials change often. Therefore, we recommend you check our service specials page monthly or whenever you need service. This way, you'll get the best value for all your service and repair needs. Give our Fairfield service center a call at (707) 430-0102 to schedule a service appointment or with any immediate questions you may have.
*Price advertised for Service A/Service B includes all factory-required components. Please refer to your maintenance booklet for the complete list of factory-required services and details on the specific intervals for your vehicle's year and model. (Valid for MY09-newer).
(Some European images shown)